THE BERRY ISLANDS, with their excellent bone fishing and deep sea fishing, are second only to Bimini for sport fishing championships in the Bahamas.
Great Harbour Cay, one of the 30 islands that make up the Berry Islands in the Bahamas, hosts an annual tournament that draws sport fishermen from around the world.
Chub Cay in the Berry Islands is known as the Billfish capital of the Bahamas. The Berry Islands, with its dozens of uninhabited cays, miles of pristine beaches and exciting dive sites, are a sailor's dream. Sail down to the Berry Islands and find the perfect Bahamas real estate spot for your fishing getaways.
The fishing tournaments spark a fair number of Berry Island real estate sales. Many an angler has been 'hooked' on the idea of owning their own piece of real estate in the Berry Islands as a fishing escape. This group of 30 islands and almost 100 cays has a land mass totaling only about a dozen square miles. But Berry Islands real estate isn't hard to find here!
The Berry Islands are located 150 miles east of Miami, on the eastern edge of the Great Bahama Bank. The Berry Islands start with Great Stirrup Cay and stretch to Chub Cay in the south.
The largest island in the Berry Islands is Great Harbor Cay at 8,300 acres.
Spectacular diving, big game fish records and beautiful harbours have made these largely uninhabited islands popular with wealthy non-Bahamians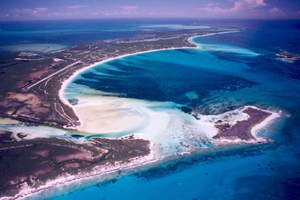 It's said there are more millionaires in the Berry Islands per square mile than most places in the world.
In days gone by, Whale Cay in the Berry Islands Bahamas was the site of thriving sponging plantation. Cistern Cay - once a private development with an airstrip and marina – has been left in ruins and is stocked by the locals for hunting.
A significant number of the cays, such as Frazier's Hog Cay and Bonds Cay, are privately owned. Other private cays include Crab Cay, Cock Roach Cay, Frozen Cay and Adler Cay.
In the Berry Islands, it's all about Bahamas real estate. Find it today!
Great Harbour Cay Bahamas real estate and, indeed, Berry Islands Bahamas real estate as a whole have lured many people.
It's said that Cary Grant danced the night away in the clubhouse of Great Harbour Cay and Brigitte Bardot loved the beaches. And who else but Jack Nicklaus had a hilltop home on Great Harbour Cay in the Berry Islands Bahamas? Regular visitors included Curt Jurgens, Ingrad Bergman and Hugh O'Brien.
Coldwell Banker Lightbourn Realty's real estate agents are members of the Bahamas MLS, a branch of the Bahamas Real Estate Association.
© Athena Mabon