ELEUTHERA
Is a long, narrow island of stunning pink and white sand beaches, Colonial villages and pineapple fields. Without question, Eleuthera real estate is some of the most spectacular in the Bahamas.
At 110 miles long and only two miles wide, Eleuthera plays Pied Piper to both locals and visitors with its sheltered coves, rolling country and dramatic cliffs. Eleuthera is known for both ocean side real estate and real estate on the shallows. Its famed Glass Window Bridge - a ribbon of a bridge - contrasts the deep turbulent blue of the Atlantic Ocean on one side, with the soothing shallow seas of turquoise and sea green on the other.
The mainland of Eleuthera is studded with former Colonial and slave villages. It's a tranquil, laid back island where the ripples of change are just starting to be felt. With only small scale development thus far, Eleuthera real estate is still a good buy.
Two satellite cays (pronounced 'keys') are a short ferry ride from mainland Eleuthera. Spanish Wells is an affluent fishing village. And historic Harbour Island – where the rich and famous own second homes – is vibrant with its restaurants, pubs and famous Pink Sands Beach. Harbour Island resembles an old Cape Cod village with its pastel Colonial cottages. The real estate on this Eleuthera island is very expensive.
Eleuthera was founded more than 300 years ago by English Adventurers in search of religious freedom. Known as the 'Eleutheran Adventurers,' they fled religious persecution in Bermuda and England and arrived in Eleuthera to pioneer the Western World's first true seat of democracy.
The Adventurers named the island Eleuthera, which means 'freedom" in Greek.
Captain William Sayle led the 70-member group of adventurers, who first landed near Governor's Harbour, popular for its Eleuthera real estate. But there was dissension amongst the group. Sayle and his followers left for the northern part of the island by boat. Their boat floundered on the treacherous reef – known as the Devil's Backbone - and their supplies were lost.
They sheltered and worshipped in Preacher's Cave where they nearly starved.
Sayle eventually was able to sail to the US to find help to support his fledgling colony.
The hard-pressed colonists in Virginia sent desperately needed supplies. As time went by, many of the original adventurers drifted away. However, a group remained. Although Harbour Island and Spanish Wells have hummed with activity for some time, the mainland of Eleuthera – until recently – has remained relatively undiscovered.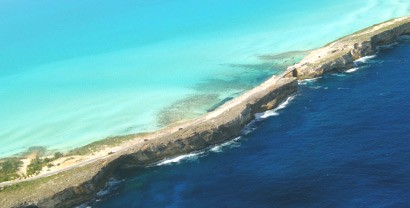 It was – perhaps – one of the best kept secrets of the Bahamas. Windermere, in central Eleuthera, is a favorite vacation spot for Prince Charles. He and Princess Diana honeymooned there. Real estate in Winderemere, Eleuthera, is quite prized.
However, Eleuthera seems to be coming into its own is now one of the favorite Bahamas real estate spots.
THE LENNY KRAVITZ CONNECTION
Eleuthera has historically drawn the rich and famous because of its enchanting beauty. One of the modern day fans is Lenny Kravitz who has his own chunk of Eleuthera real estate – Gregory Town Sound.
The studio was completed early in 2009.
Kravitz told The Eleutheran newspaper that Eleuthera is 'a dream place to work.' The studio in Eleuthera was the realization of a 20 year dream.
"There's no other place I'd want to record,' he told The Eleutheran.
Lenny's naval string is buried in the Bahamas. His maternal grandfather hailed from Inagua in the southern Bahamas.
TYLER PERRY'S ELEUTHERA FILM
American playwright, actor and director Tyler Perry has purchased Eleuthera real estate. Perry's used Eleuthera as the backdrop of his new film "Why Did I Get Married Too".
"I wanted to come here and show people how beautiful the ( Eleuthera ) is," Perry told The Nassau Guardian. "I just highlighted the islands of the Bahamas, the pink sands, the sunset."
Coldwell Banker Lightbourn Realty's real estate agents are members of the Bahamas MLS, a branch of the Bahamas Real Estate Association.
© Athena Mabon